GRANDSTREAM GXV3350 High-End Smart Video Phone for Android TM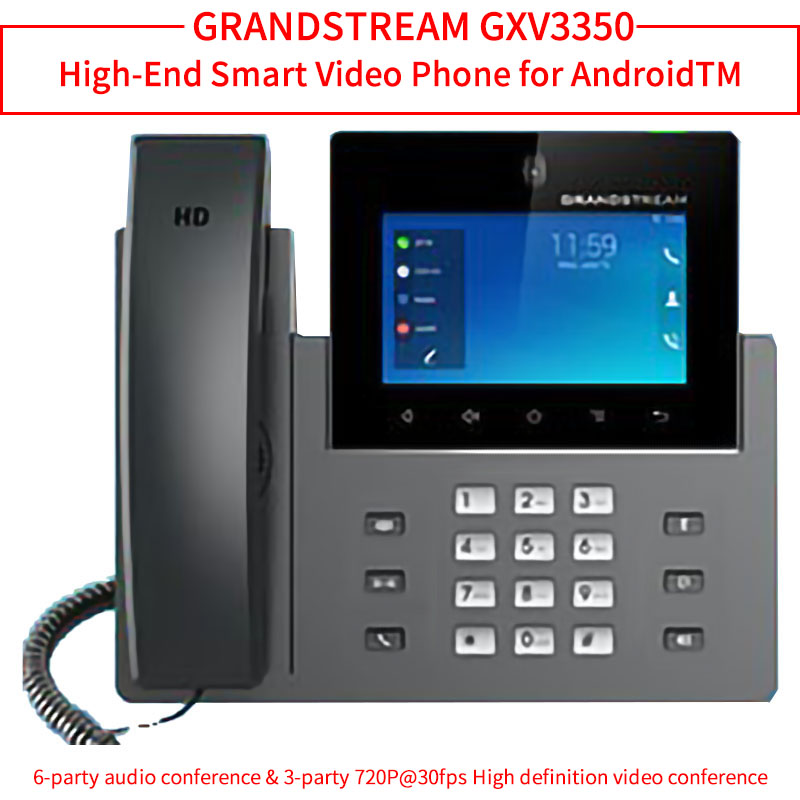 OVERVIEW:
The GXV3350 IP Video Phone for Android combines a 16-line IP video phone with a multi-platform video collaboration solution and the functionality of an Android tablet to offer an all-in-one communications solution.
This IP video phone delivers a powerful experience through its' 5 inch 1280x720 capacitive touch screen, tiltable camera, HDMI output, dual microphones and support for 720p HD video.
The GXV3350 adds dual Gigabit ports with PoE/PoE+,integrated Wi-Fi and Bluetooth support.
It also runs Android 7.0 and offersinstant access to hundreds of thousands of Android apps.
By combining a state-of-the-art IP video phone, an advanced video collaboration solution,
and the functionality of an Android tablet, the GXV3350 offers businesses throughout the world a powerful desktop communication and productivity solution..
PACKAGE CONTENTS:
1x GXV3350 Main Case 1x Handset 1x Phone stand
1x Phone Cord 1x Ethernet Cable 1x 12V Power Adapter
1x Quick Installation Guide/1x GPL License
PRECAUTIONS:
WARNING: Please DO NOT power cycle the GXV3350 during system boot
up or firmware upgrade. You may corrupt firmware images and cause the unit
to malfunction.
WARNING: Use only the power adapter included in the GXV3350 package.
Using an alternative non-qualified power adapter may possibly damage the
unit.
The GXV3350 is not pre-configured to support or
carry emergency calls to any type of hospital, law
enforcement agency, medical care unit ("Emergency
Service(s)") or any other kind of Emergency Service.
You must make additional arrangements to access
Emergency Services. It is your responsibility to
purchase SIP-compliant Internet telephone service,
properly configure the GXV3350 to use that service,
and periodically test your configuration to confirm
that it works as you expect. If you do not do so, it
is your responsibility to purchase traditional wireless
or landline telephone services to access Emergency
Services.
GRANDSTREAM DOES NOT PROVIDE CONNECTIONS TO EMERGENCY SERVICES VIA THE
GXV3350. NEITHER GRANDSTREAM NOR ITS
OFFICERS, EMPLOYEES OR AFFILIATES MAY
BE HELD LIABLE FOR ANY CLAIM, DAMAGE, OR
LOSS. YOU HEREBY WAIVE ANY AND ALL SUCH
CLAIMS OR CAUSES OF ACTION ARISING FROM
OR RELATING TO YOUR INABILITY TO USE THE
GXV3350 TO CONTACT EMERGENCY SERVICES,
AND YOUR FAILURE TO MAKE ADDITIONAL
ARRANGEMENTS TO ACCESS EMERGENCY
SERVICES IN ACCORDANCE WITH THE IMMEDIATELY PRECEDING PARAGRAPH.